CAM 2017 Vienna/Bratislava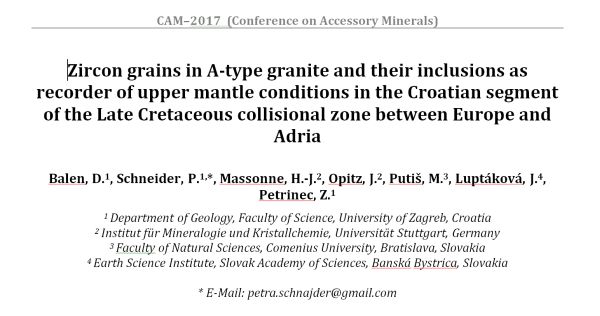 Herewith we reconfirm the receipt, and acceptance, of the abstract entitled
"Zircon grains in A-type granite and their inclusions as recorder of upper mantle conditions in the Croatian segment of the Late Cretaceous collisional zone between Europe and Adria" that you have submitted for presentation at the CAM-2017 conference.
Current research on Medvednica Mt.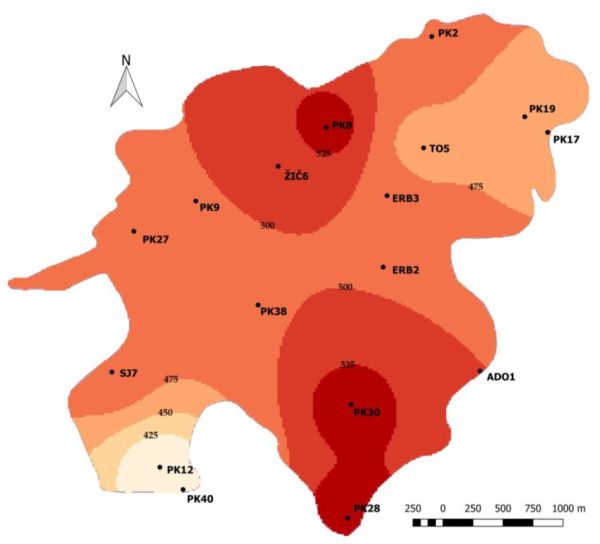 Interpolation map show temperatures of older metamorphic phase from greenschists of Medvednica Mt.
"Samples collected on the central part of Medvednica Mt. were analyzed with petrographic microscope in order to determine their microtextures and mineral composition. All the samples represent the greenschists, showing some differences in their mineral composition. Those differences were used to determine spatial changes of metamorphic conditions. Whole rock analysis was conducted on the sample from Sveti Jakob locality, in order to determine P-T conditions in which the rock was metamorphosed. Values calculated with Perple_X program package are 375°C and 430 MPa, matching the lower part of greenschist facies. Two different stages of deformation were recognized during the microscopic analysis, and the calculated values match the younger phase of deformation (D2) and the retrograde metamorphism. Microtectonic analysis of dynamic recrystallization effects visible within the plagioclase and quartz grans indicates the temperature conditions for the older deformation phase (D1) associated with prograde metamorphism. For the sample from Sveti Jakob locality, values range at 450-500°C, representing the upper part of greenschist facies. Few specific maps were made, showing spatial variations in metamorphic conditions for both phases of deformation, changes of magnesium and iron content in chlorites, variations in volume amount of mineral phases detected in samples, and distribution of minerals containing Fe3+."
Interpolation map show temperatures of younger metamorphic phase from greenschists of Medvednica Mt.
International Geology Review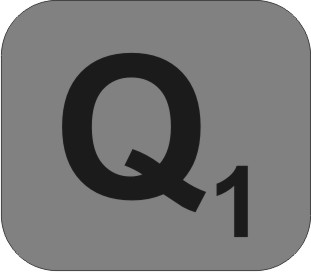 2015 Impact Factor: 2.365 ©2016 Thomson Reuters, 2016 Journal Citation Reports®

06-May-2017

Dear Dr Balen:

Ref: Alpine metamorphism of low-grade schists from the Slavonian Mountains (Croatia): new P-T and geochronological constraints

I have now considered your revised manuscrit and am pleased to accept your paper in its current form which will now be forwarded to the publisher for copy editing and typesetting.
Goldschmidt 2017
Abstract Acceptance

We confirm that your abstract 
A Cretaceous A-Type Granite from the Europe-Adria Collisional Zone: 
A Marker of Geodynamic Changes (gold2017:abs:2017002498) 
is accepted for presentation at Goldschmidt2017.

Goldschmidt2017's submitted abstracts have now all been scheduled and the schedule 
reviewed by the session convenors and science committee.

Abstract Presentation Details

We confirm that your abstract A Cretaceous A-Type Granite from the Europe-Adria 
Collisional Zone: A Marker of Geodynamic Changes (gold2017:abs:2017002498) is accepted 
for presentation at Goldschmidt2017. It is scheduled for Oral presentation at 15:45 on 
Tuesday 15th August as part of session 06h: Making granites: petrogenetic processes, 
tectonic environments and secular variations.
XVI International Clay Conference, Granada, Spain
Accepted abstract for Clay Conference.
EGU 2017 Vienna, Austria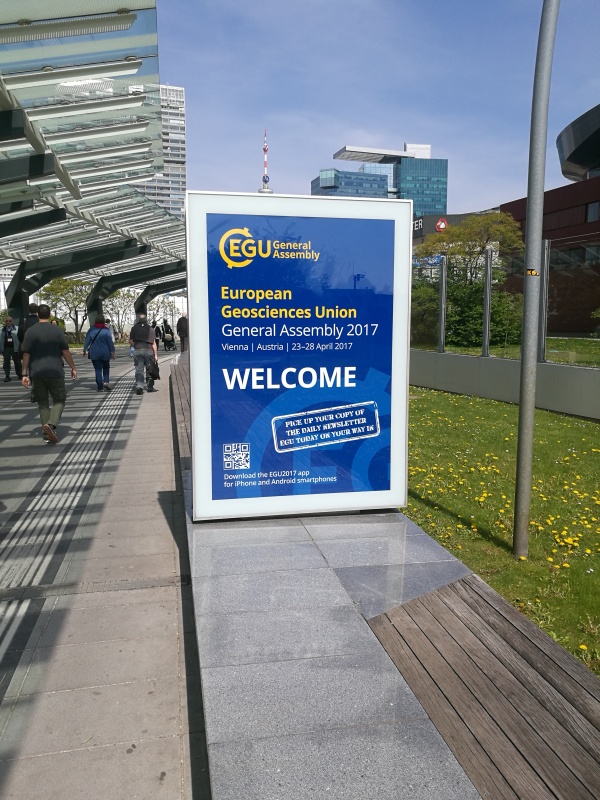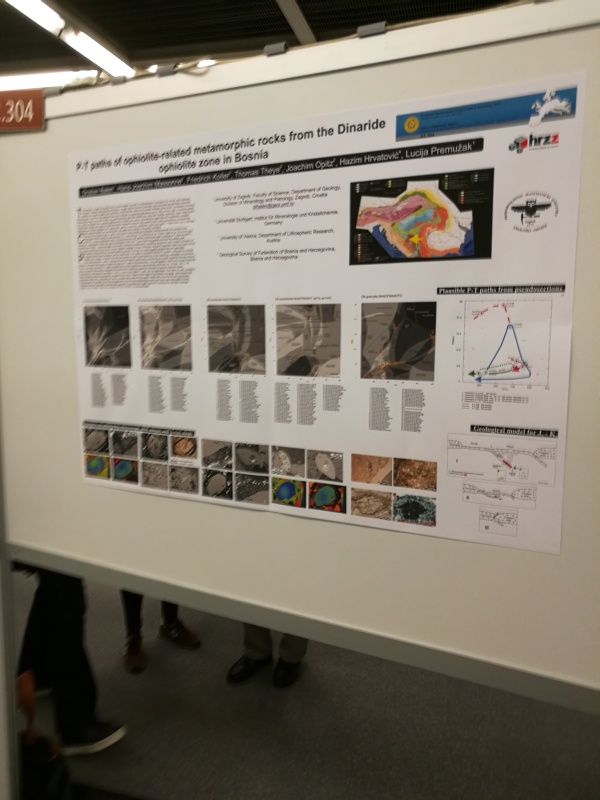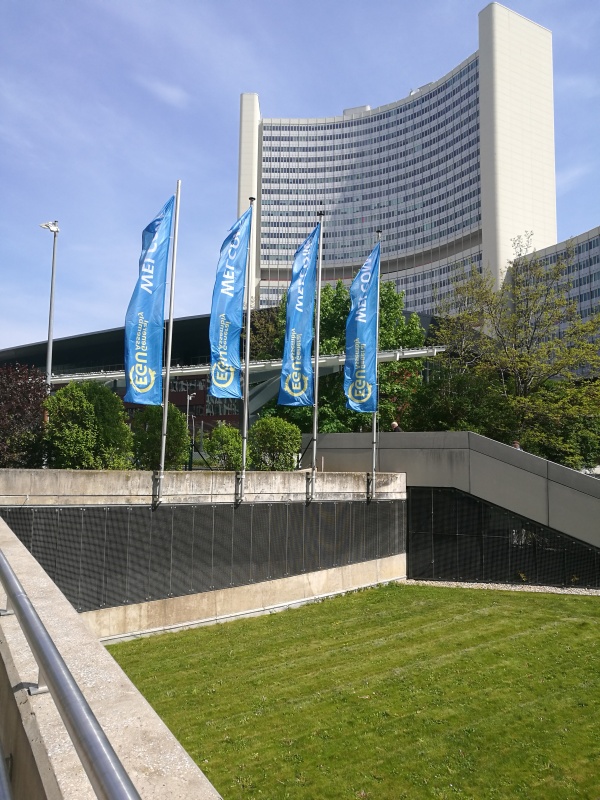 Dissemination
Science is generally fun. However, the best parts are in the dissemination of serious scientific work toward general public (especially to the youngest) in form of informal / less serious lecture(s). One of the main occasions for such presentations is during Open days at Faculty of Science. So, this year (at Friday, 7.4., 14h) we will have talk by Blanka connected to her "ad hoc" visit to Caribbean. Title of presentation is "Carbonates of the Caribbean" prepared in the HRZZ production :-)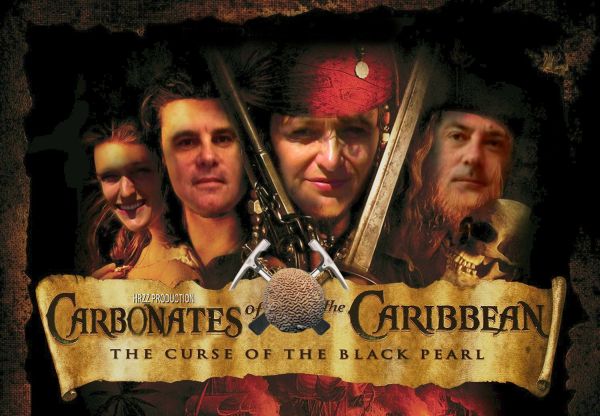 Of course it should be emphasized that any coincidence with Pirates of the Caribbean is pure coincidental and nothing more than spontaneous if not impulsive...and everything was filmed at original locations and no animal or plant were injured during hammering and all "actors" were old enough to do what ever they did. ;-)
Diamonds are forever (in "natural capsules")
Beside huge lateral or areal extension of our project, suddenly we are starting to "dig deeper", deep down to the depth (potentially) equivalent to the diamond stability field. Hopefully, soon we will be able to confirm recent findings of kumdykolite and kokchetavite (UHP/HP polymorphs of albite and K-feldspar, respectively). They are found as inclusions in zircons, revealing the early path of A-type granite magma evolution.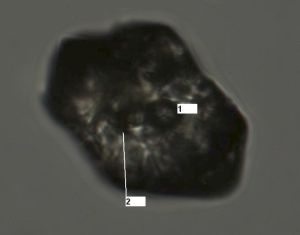 What are the consequences for collision zone between Europe and Africa remains to be seen, but it might be a very sound contribution to the regional geology. Definitively, bombastic. We are digging in the interesting region during an interesting time. Obviously we are truly living an old curse - "dabogda živio u interesantnim vremenima" - but, you also probably know the other one: "who dares, wins".
Thousand tiny steps
New contribution from our carbonate team member as a co-author...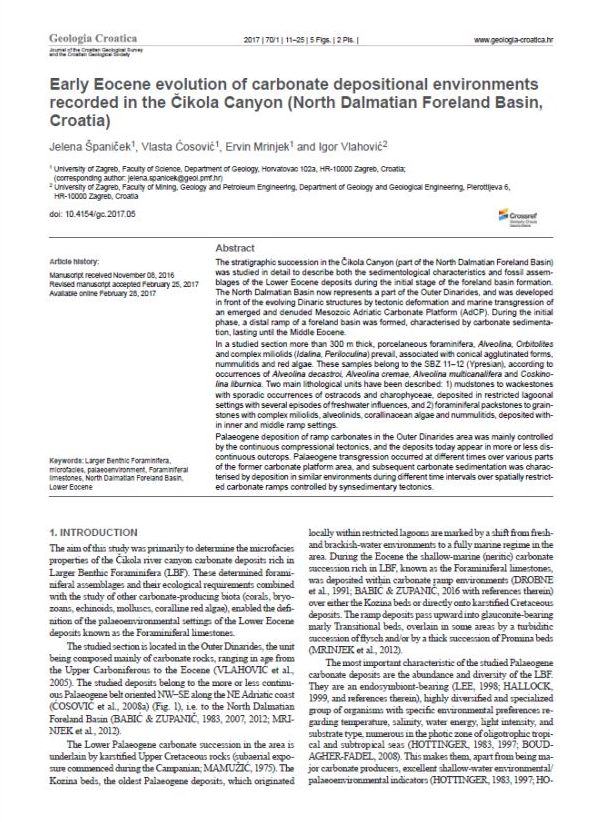 EGU 2017 Vienna

Dear Prof. Dr. Balen,

We are pleased to inform you about the acceptance of your following Abstract for the EGU General Assembly 2017:

EGU2017-5092
P-T paths of ophiolite-related metamorphic rocks from the Dinaride ophiolite zone in Bosnia
by Dražen Balen et al.
accepted in Session GD5.2/EMRP4.28/SM6.9 Orogenesis and geodynamics related to the collision of macro- and micro-plates (co-organized)

Ad hoc visit - carbonate factory;
Nassau, Exuma, Bahamas
In the Bahamas I (BCT ed. com.) examined the Quaternary record of shallow marine to terrestrial carbonate systems and their modern equivalents represented by the wave-swept subtidal sand flats to tidal channels, mangrove marshes, beaches and eolian dune settings. On Exuma I worked along side Smith College students and faculty as well as colleagues from The University of Connecticut and Florida Gulf Coast University on research questions focused on understanding the formation of various physical and biogenic sedimentary structures, distribution of carbonate sediment and dynamics of sedimentation, as well as the stratigraphy of Pleistocene vs Holocene deposits separated by a well developed terra rosa paleosol and caliche horizons. On San Salvador I joined a group of Temple University ichnologists in casting and GPR imaging of terrestrial crab burrows, and I assisted the Smith College Drone Team with collecting aerial images of storm-deposited boulders as part of Profs. Bosiljka Glumac and Al Curran's research on the impact of hurricanes on these fragile Bahamian coastal environments.
Brainstorming 2017
OK, we had a brainstorming. Lovely word, you must admit that this is after kick-off absolutely must for any serious project as we tend to be. Nothing else matters if you have brain and storm with it. Not that we really need to vortex our brains, not that we do not know what we want, or what we truly can, or what we will achieve finally. But to stir the pot a little bit, to welcome wild ideas and pool out frustrations with face-to-face mingling in the criticism-free zone.
For prevention of inhibition of any kind (as strict rule in brainstorming) we chose to meet at brewery this time. Yes, a brewery. With beer, craft beer, lot of beer (and bit of sausage too). In a way brainstorming was back to the roots since we planted idea about common project in the very same brewery two and half years ago. At least we are geologists, brewery is like sand box for us.
Epilogue: one paper is just published from the series of newly discovered forams, two are submitted to journals for review (linked to HRZZ automatically during uploading process – I must admit that I am a bit scared of Big Brother everywhere), one abstract is in review process too, seven manuscripts are in different but realistic stages impatiently waiting to be born. And believe it or not, around 20 solid ideas for fulfilling the holes in common knowledge that we had discovered during 18 month of research. Sic! Of course, juicy (fisherman) stories from fresh visit to USA and preparation for two months long visit to Bahamas and Boston. Accompanied with guidance what we will do in next months.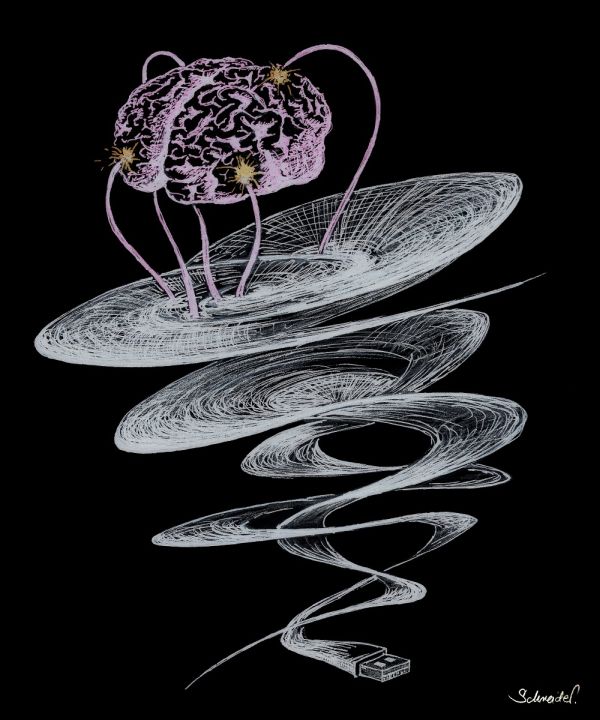 And as a cherry on the top of Schwartzwalder cake - artwork dedicated to our brainstorming by our young student collaborator Petra Schneider. Have an idea to turn hardcopy of this science fiction "masterpeace" into award for something…
Anyway, successful meeting of good colleagues and friends followed by day after headache 8 - )
Another One Bites the Dust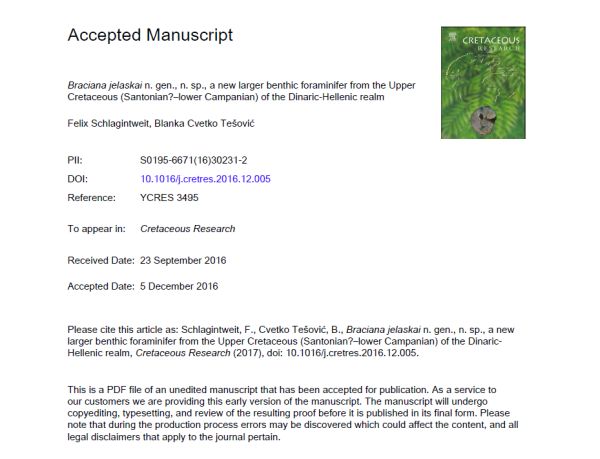 AGU2016 Fall Meeting ... Big, Bigger, Biggest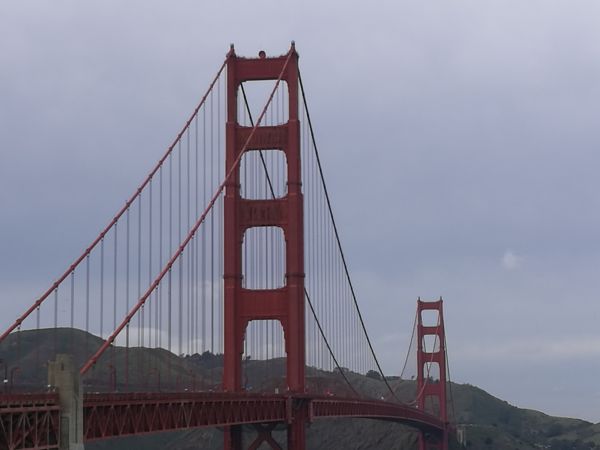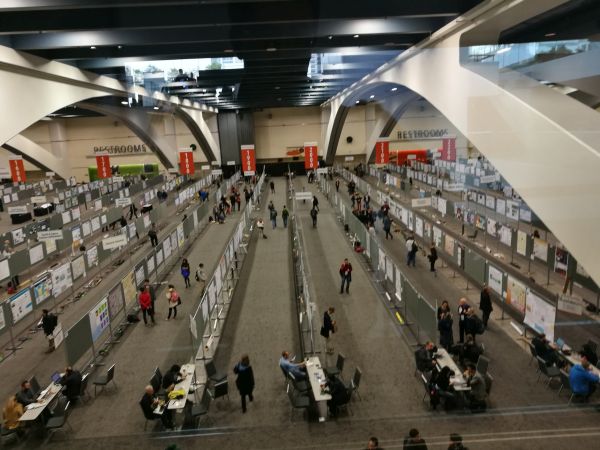 Laser ablation of zircon grains
Institut für Mineralogie und Kristallchemie Stuttgart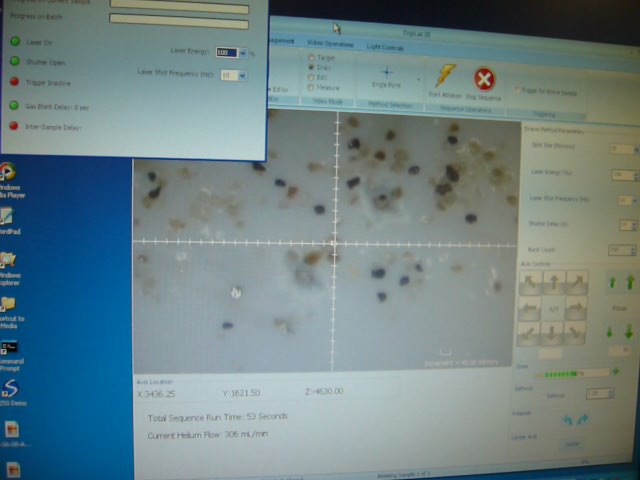 Laser ablation is the process of removing material from in this case zircon grain surface by irradiating it with a laser beam. As you probably noted from our previous posts the laser beams, mass spectrometers coupled with plasma are (beside geological hammers, climbing ropes and hiking boots) among our favorite tools. To catch a peek into the experiment click on above image.
The final purpose of this preliminary experiment is obtaining chemistry of mineral and age dating of zircon grains separated from Slavonian red granite.
An amazing week with Stuttgart team at Institut für Mineralogie und Kristallchemie and of course all credits to strong support from Zorica and Petra.
Start with us and you will finish at the top of the world (literally)
Former graduate student and present co-author on the manuscript dealing with Alpine low-grade metamorphic rocks Iva Lihter browsing Himalaya now, working on her future PhD project with Canadian team.
Lots of impressions, bruises, pain, hammering and other small things that make life of geologist so interesting. Well done Iva, we are proud of you.
Good luck, let force be with you, always keep hammer ready (even on Kathmandu-Lukla flight ;-) ) and have lot of fun at Kala Patthar (ca. 5630 m) and surroundings.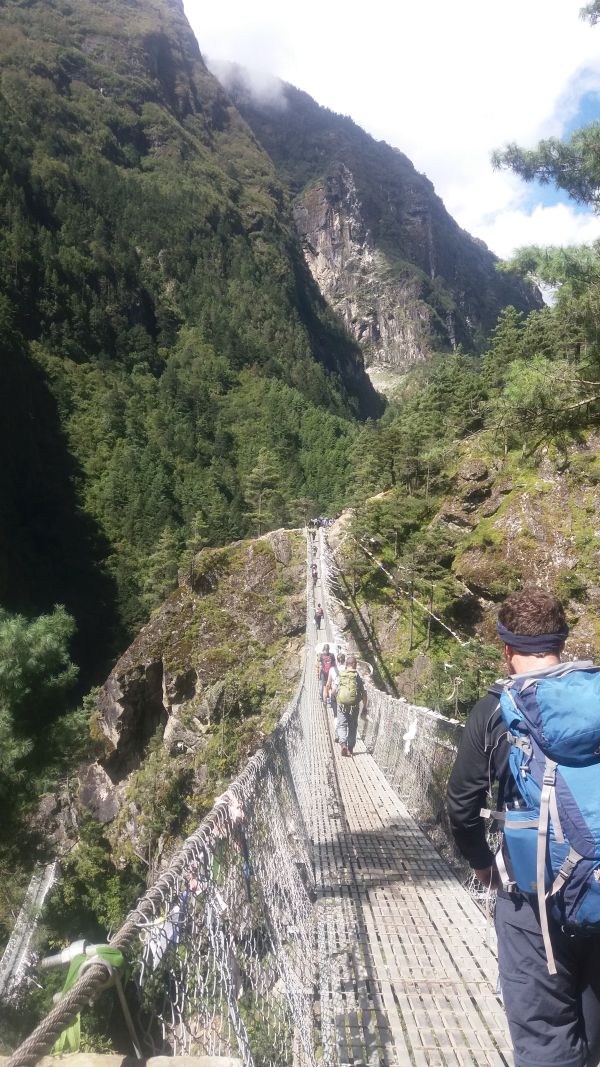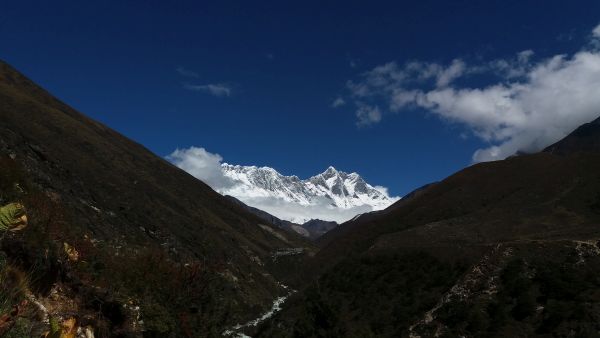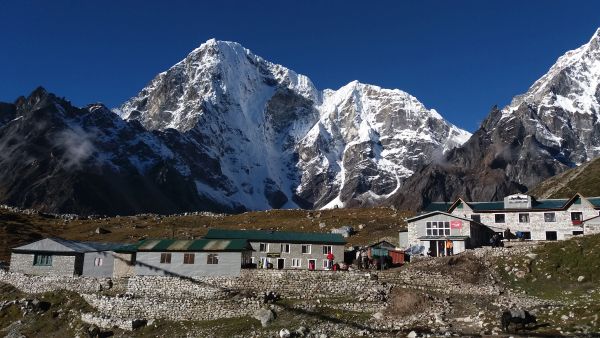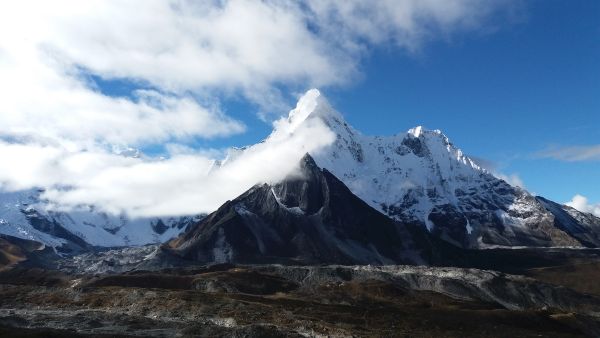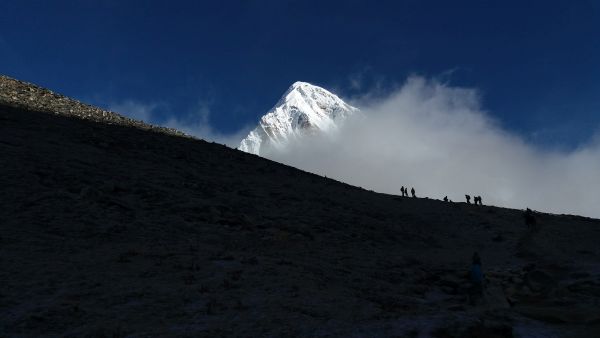 One small step for mankind, one giant leap for man ... or?


3 October 2016

Dear Dražen Balen:

I am pleased to inform you that the abstract listed below was accepted for a poster presentation at the 2016 AGU Fall Meeting, taking place on 12-16 December, in San Francisco, California.

A P-T path for amphibolites from the metamorphic sole of the Dinaride ophiolite zone in Bosnia 

Session Number and Title: V33D: New Insights on Igneous and Metamorphic Processes from Nontraditional Thermobarometers and Geospeedometers
'161 Hand-Stück Steine'
Teams are in the field, working hard, ... updates on the progress as well as new papers will be (hopefully) published soon. In meantime image from ordinary life of "small beast hunters". They are in position of lurking the forams with the latest project technological improvisation - 1:1 optical lense :-)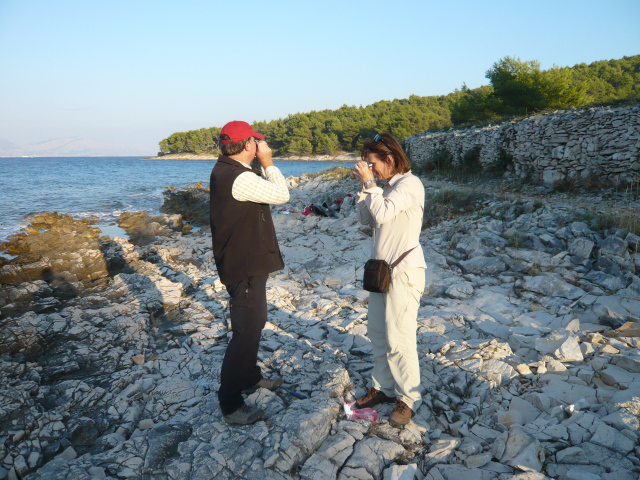 The garnet rhapsody
Fresh image from the field: "peritectic" garnets in the amphibolite from central Bosnia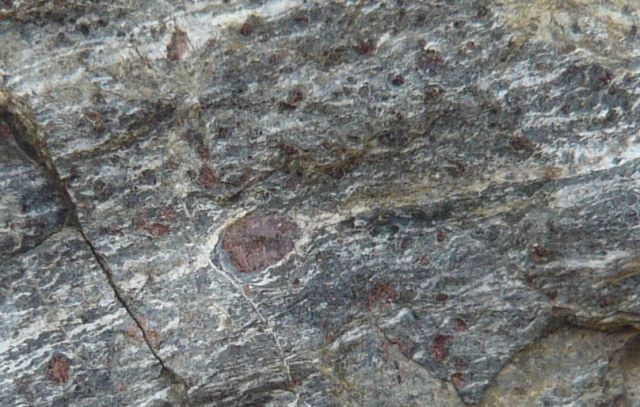 Journey to the Center of the Earth
After summer break and 1st year evaluation procedure (that passed quite well) we are full of energy for field research (aiming strict topics) in the most exciting areas. For the crystalline team it is outcrop of metamorphic sole rocks near Vareš in Bosnia. To reach Mountain Zvijezda (Star Mt.) in the central Bosnia one has to be prepared for lot of surprises. Among various type of surprises one of the smallest is driving. Here is passage through let say half natural "tunnel" competing with local river and gorge. Anyway, that is just a fun glimpse in the research of inferno rocks. Click on the image and join us!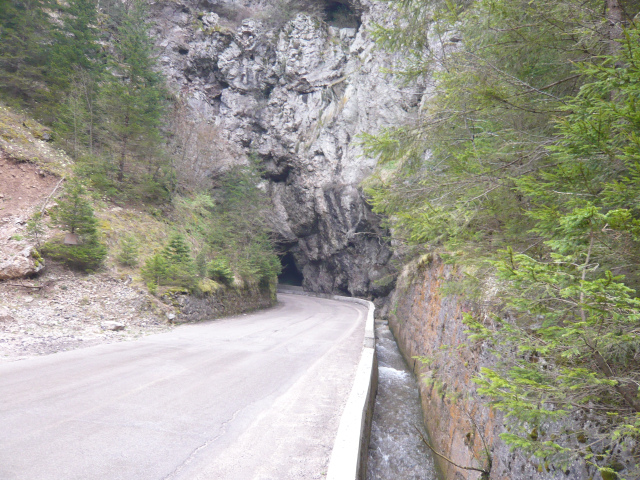 Approach to the metamorphic sole localities near Vareš (central Bosnia)
https://www.youtube.com/watch?v=bO7N1lqO5jQ
Working group on sediment generation, Third meeting
"Analysis of sediment properties and provenance: Tools for paleo-environmental reconstruction", Leuven, Belgium, 4-6 July 2016.
This rather small, yet topic specific meeting in Leuven brought together top scientists who concentrate their research on the study and quantification of sediment generation and dispersal, composition and provenance, as well as mass balancing and modelling of relevant processes.
At the meeting our team presented results from the basin group. This included petrographic and biostratigraphic data from the Medvednica, Banovina and Cetingrad areas which document siliciclastic and carbonate sources of detritus originating from different parts of the basin margin. The meeting was very useful for establishing contacts with experts developing new methodologies in provenance research, as well as renewing existing collaborations with colleagues from Germany and Britain.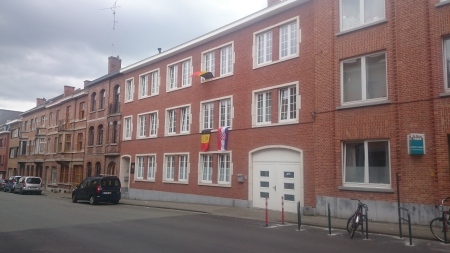 Title of the talk:
Borna Lužar-Oberiter, Blanka Cvetko-Tešović, Alan Moro, Maja Martinuš, Šimun Aščić, Frane Marković, Dražen Balen (2016): Tracing late cretaceous geodynamics in the Dinarides from mixed siliciclastic-carbonate detritus of synorogenic basins. Working group on sediment generation, Third meeting, Programme and Abstracts, 50-51, Leuven, Belgium.
A few images of the wonderful architecture and scenery of the University of Leuven campus and town center:
Zircon morphology
Just to break summer heat with zircon grain image recently made in Banska Bystrica by Petra Schneider. This is continuation of zircon morphology study of grains separated from Slavonian red granite.