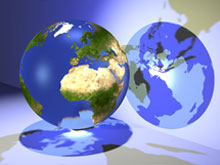 Our Department was founded in 1883, and today we are the most significant scientific and educational institution for geography in Croatia. Contemporary global issues, such as the restructuring of urban and rural areas, migrations and demographic ageing, climate and environmental change, and other natural and social processes are some of our research topics.
In their research work geographers use new technologies and tools such as geographic information systems, analyses of satellite imagery of the Earth's surface and spatial models. Additionally, geographers aren't afraid to get their shoes dirty – field work is an essential part of our research.
On our page you can learn about the organisation of the Department, academic and other types of activities, as well as our staff. You can familiarise yourselves with the study programmes offered by the Department, which provide knowledge and competencies in the fields of research and education in geography.
Besides the Undergraduate Research Programme in Geography and Integrated Studies in Geography and History, the Department of Geography offers five programmes at the graduate level:

-    Physical Geography with Geoecology
-    Spatial Planning and Regional Development
-    Heritage and Tourism
-    Geographic Information Systems
-    Graduate Education Programme

In cooperation with the Departments of Geology and Biology at the Faculty of Science, undergraduate and graduate studies in Environmental Sciences are offered. It is important to note that the Doctoral study of geography: space, region, environment, landscape is the sole doctoral study of Geography at the University of Zagreb.
The Department is the home to the Central Geographic Library and Cartographic Collection, and is closely linked to the Croatian Geographic Society (est. 1897), found at the same location, at Marulićev trg 19 in Zagreb.