izv. prof. dr. sc. Dominik Cinčić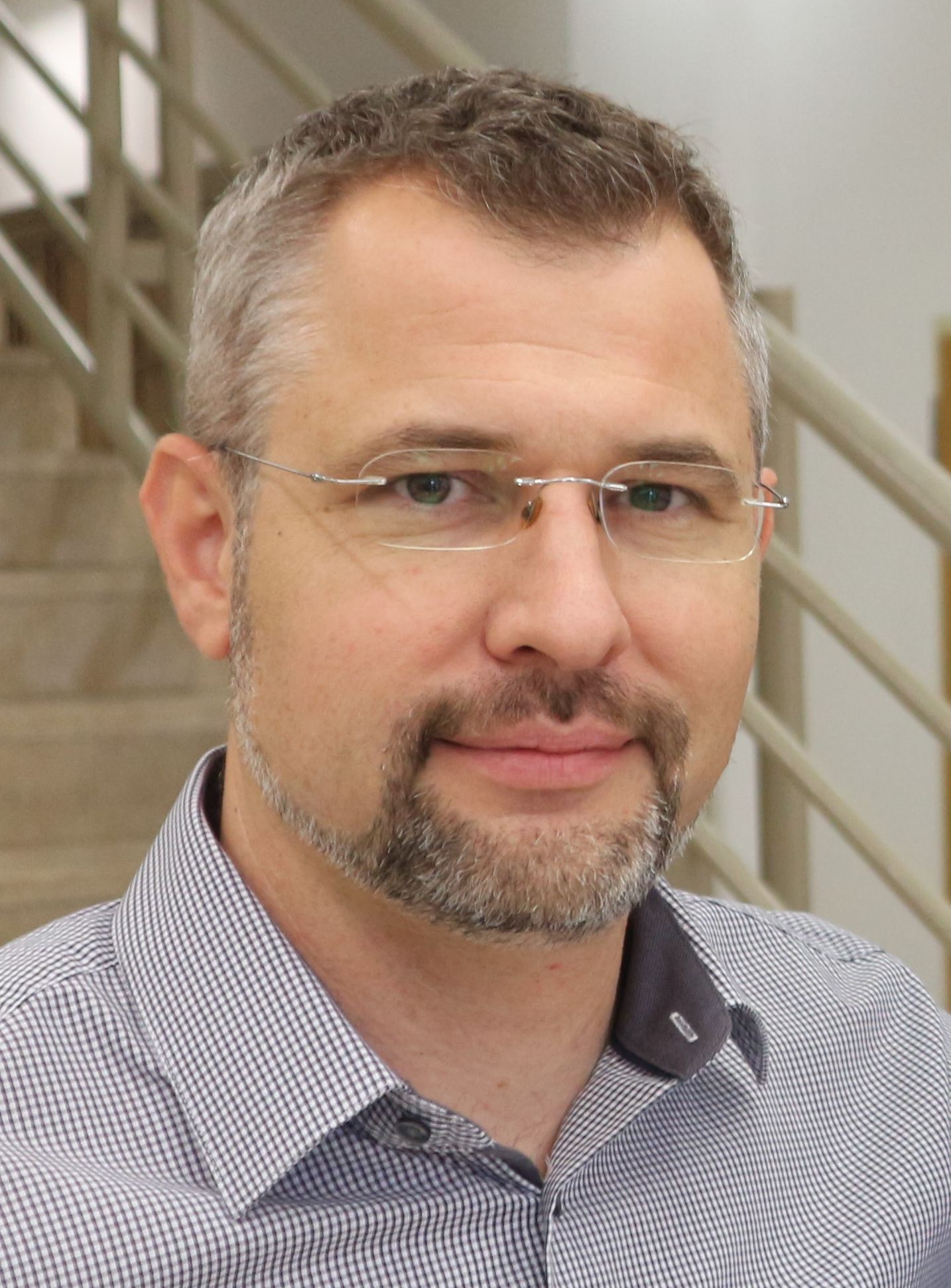 | | |
| --- | --- |
| Title: | Associate Professor |
| Location: | 107 |
| Public phone number: | +385 1 4606 362 |
| Internal phone number: | 6362 |
| E-mail: | E-mail |
| Department: | Division of General and Inorganic Chemistry |
Teaching
undergraduate
graduate
integrated undergraduate and graduate
doctoral
Biography
Education
2009, Ph.D. in Chemistry with Prof. B. Kaitner; Inorganic and structural chemistry
Institution: Faculty of Science, University of Zagreb
2005, Mr.Sc. in Chemistry with Prof. B. Kaitner; Inorganic and structural chemistry
Institution: Faculty of Science, University of Zagreb
1999, Dipl. ing. (graduate degree) in Chemistry with Prof. B. Kaitner; Inorganic and structural chemistry, Institution: Faculty of Science, University of Zagreb
Affiliation and current position
Department of Chemistry, Faculty of Science, University of Zagreb: Associate Professor (2018 – ),
Previous positions
Assistant Professor (2013 – 2018), Senior Assistant (2009-2013); Assistant (2000-2009), Department of Chemistry, Faculty of Science, University of Zagreb.
Teaching
Undergraduate courses:
2011 – current, General and Inorganic Chemistry (290 students, 480 lecture hrs)
2000 – 2018, General and Inorganic Chemistry - seminars (720 students, 900 lecture hrs)
2000 – 2014, General and inorganic chemistry - laboratory work with students (200 students, 1200 lecture hrs)
Graduate courses:
2011 – current, Chemistry of Molecular Solids (90 students, 480 lecture hrs)
2012 – current, Metal and Ligand Reactivity (70 students, 420 lecture hrs)
PhD courses:
2016 – current, Solid-State Chemistry of Active Pharmaceutical Ingredients
Visits to foreign research and education institutions
2007 (January - April), University of Cambridge, Department of Chemistry, Cambridge, UK (supervised by Prof. W. Jones)
Research interest
Halogen bonds, mechanochemistry, supramolecular chemistry, solid-state and solvent-free synthesis of organic and metal-organic materials, crystallisation and crystallography of molecular solids
Publications and conferences
Total number of publications: 60
Patents: 2 (registered in >15 patent offices; European Patent Office, US Patent Office etc.)
Citations: 1496 (SCOPUS), 1745 (Google Scholar)
h-index: 21; i100-index: 3 papers; i10-index: 43 papers
Home and international conferences: >170 conference presentations (oral and poster) by trainee students and postdoctoral researchers
Awards
2018, Croatian National Science Award for outstanding scientific discoveries in the field of supramolecular chemistry - halogen-bonded solids
2017, Medal for science popularization administered by the Department of Chemistry, Faculty of Science, University of Zagreb
2017, Annual Award for science popularization administered by the Faculty of Science, University of Zagreb
2013, 2014, 2016, 2017, Annual Award 'Brdo' for the best teacher at the Department of Chemistry, administered by the Student Association at the Faculty of Science, University of Zagreb
2009, Annual Young Scientist and Artist's Award, administered by the Society of University Teachers, Scholars and Other Scientists in Zagreb
Supervision of students
2013 – today, supervised 2 PhD student, 21 Graduate students and 17 Undergraduate students
Current supervision: 2 PhD student, 5 undergraduate students
Papers in peer reviewed scientific journals co-authored with supervised students: 10 (with PhD students) and 12 (with undergraduate students)
Referee of international scientific journals
>70 manuscripts: Chem. Commun., CrystEngComm, Cryst. Growth & Design, etc.
2018, Recognised by the Editorial Board as an Outstanding Reviewer for CrystEngComm in 2017
Memberships
2015. – current, The Rector's Award Committee at the University of Zagreb
2005 – 2009, Member of the University Committee for Natural Sciences
2005 – 2013, Member of the organizing committee of the national competition - Grand Prix Chimique
2018 – current, Croatian Association of Crystallographers
2001 – current, Croatian Crystallographic Association
1999 – current, Croatian Chemical Society
Institutional responsibilities
2016 – current, Construction and Investment Committee at the Faculty of Science
2015 – 2019t, Assistant Head of the Chemistry Department (for technical support)
2015 – 2016, Head of organizing committee for the annual outreach event 'Open Day of the Faculty' at
the Faculty of Science
2014 – current, Head of Safety Committee at the Department of Chemistry
2014 – 2019, Teaching Committee at the Department of Chemistry
2014 – 2015, Assistant Head of the Chemistry Department (for teaching support)
2013 – 2017, Head of organizing committee of the public event 'Open day of the Chemistry Department'
at the Faculty of Science
2013 – 2018, Head of organizing committee of the public event 'The Christmas Lecture' at the
Department of Chemistry
2008 – 2009, Assistant Head of the Department of Chemistry (for technical support), Faculty of Science,
University of Zagreb
2007 – current, Member of organizing committee of the public event 'The magic in chemistry', organized
by the Department of Chemistry
2006 – current, Member of the Faculty Safety Committee
Organisation of scientific meetings
2017, 2019, Solid-State Science & Research Meeting / Member of organizing committee/ Zagreb, Croatia
2015, 24th Croatian Meeting of Chemists and Chemical Engineers / Member of organizing committee/ Zagreb, Croatia
Research projects
2020 – current, Leader on the project: New building blocks for the supramolecular design of complex multi-component molecular crystals based on halogen bonds (supported by Croatian Science Foundation, 2020-2024).
2015 – 2019, Leader on the project: Crystal engineering of multicomponent halogen bonded metal-organic materials: towards supramolecular control over structure and properties (supported by Croatian Science Foundation, 2015-2019).
2015, Leader on the project: Cocrystallization of halogen bond donors with imines derived from o-vanillin (supported by the Croatian Academy of Sciences and Arts)
2014, Leader on the project: The effect of chiral additives on enantioselectivity in mechanochemical reactions in the solid-state (supported by the Croatian Academy of Sciences and Arts)
2013 – current, Leader on the project: Protocol for crystal form screening of active ingredients (supported by Pliva Hrvatska d. d.)
2014 – 2018, Management Committee member of the COST project: From molecules to crystals: how do organic molecules form crystals? (supported by the EU Framework Programme)
2006 – 2013, Researcher on the project: New organic and coordination compounds - synthesis and structure-properties correlation (supported by the Croatian ministry of science, education and sport)
2002 – 2006, Researcher on the project: Molecular recognition and weak interactions in design of new materials (supported by the Croatian ministry of science, education and sport)
2000 – 2001, Researcher on the project: Protocol for polymorph screening (supported by Pliva Hrvatska d. d.)
Published papers recorded in the Croatian Scientific Bibliography Database (CROSBI)
Note: this list of papers is located in an maintained by the Ruđer Bošković Institute which is in charge of the Croatian Scientific Bibliography Database (CROSBI). This link will take you to the appropriate CROSBI page of this person, containing a list of papers they have themselves entered in the database.
Show CROSBI records
For further information and for instructions on changing the above data, please contact help@bib.irb.hr.
List of select publications
1. K. Lisac, F. Topić, M. Arhangelskis, S. Cepić, P. A. Julien, C. W. Nickels, A. J. Morris, T. Friščić, D. Cinčić;
Halogen-bonded cocrystallization with phosphorus, arsenic and antimony acceptors, Nature Communications, 10 (2019) Article number: 61.
2. V. Stilinović, G. Horvat, T. Hrenar, V. Nemec, D. Cinčić;
Halogen and Hydrogen Bonding between (N-Halogeno)succinimides and Pyridine Derivatives in Solution, Solid State and in Silico, Chemistry - A European Journal, 23 (2017) 5244-5257.
3. V. Nemec, L. Fotović, T. Friščić, D. Cinčić;
A large family of halogen-bonded cocrystals involving metal-organic building blocks with open coordination sites, Cryst. Growth Des., 17 (2017) 6169-6173.
4. D. Cinčić, I. Brekalo, B.Kaitner;
Effect of atmosphere on solid-state amine-aldehyde condensations: gas-phase catalysts for solid-state transformations, Chem. Commun. 48 (2012) 11683-11685.
5. D. Cinčić, I. Brekalo, B.Kaitner;
Solvent-Free Polymorphism Control in a Covalent Mechanochemical Reaction, Cryst. Growth Des. 12 (2012) 44-48.
6. D. Cinčić, T. Friščić, W. Jones;
A stepwise mechanism for the mechanochemical synthesis of halogen-bonded cocrystal architectures, J. Am. Chem. Soc. 130 (2008) 7524-7525.
7. D. Cinčić, T. Friščić, W. Jones;
Isostructural materials achieved by using structurally equivalent donors and acceptors in halogen-bonded cocrystals, Chem. Eur. J. 14 (2008) 747-753.