Marija Pranjić, mag. chem.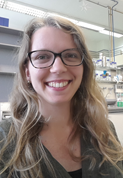 Teaching
undergraduate
Predmet
Biography
Marija Pranjić graduated in 2017. from Faculty of Science in Zagreb with diploma thesis Ancestral proteins as thermostable analogues of extant proteins under the mentorship of dr. Marko Močibob. In the same year she was awarded with Chemistry department medal for excellence during study and becomes assistant at Faculty of Science, Chemistry Department, Biochemistry division.
During her chemistry study she works at the university as student tutor, mentors high school students for Chemistry State Competition and Matura exam. As a teaching assistant she participates in teaching courses: Biochemistry 1, Biochemistry 2, Basic Biochemistry Laboratory and Advanced Biochemistry Laboratory.
During 2018. and 2019. she works on a bilateral Croatian-German project (MZO-DAAD) Cellular answer to canonical and noncanonical mistranslation. During that time, she visits prof. Maček group for three months at Proteome center at Karls Eberhardt University (Tübingen, Germany) and gains knowledge in quantitative proteomics and mass spectrometry, as well as proteomic data analysis in R and Perseus. She also attends mass spectrometry workshops: Protein Analysis, Identification and Quantification with Coupled LC-MS Methods (Biocentre, Zagreb) and Quantitative Proteomics Strategies and Tools to Probe Biology, EMBO workshop (EMBL, Heidelberg, Germany) – for which she received funding from Boehringer Ingelheim Fonds.
Her scientific research involves genetic engineering of Escherichia coli, pull-down assay and isolation of DnaK interactors, as well as bioinformatic analysis of cellular and proteome answer to stress induced with isoleucine mistranslation in E. coli.
Published papers recorded in the Croatian Scientific Bibliography Database (CROSBI)
Note: this list of papers is located in an maintained by the Ruđer Bošković Institute which is in charge of the Croatian Scientific Bibliography Database (CROSBI). This link will take you to the appropriate CROSBI page of this person, containing a list of papers they have themselves entered in the database.
For further information and for instructions on changing the above data, please contact help@bib.irb.hr.
List of select projects
Associate on project:
Aminoacyl-tRNA synthetases as gatekeepers of the standard genetic code
funding: Croatian Science Foundation
Principal Investigator: prof. Ita Gruić Sovulj